Test Prep >>
The Short List can give you the tools you need to help you boost your scores.

Pre-College >>
The Short List will help you identify the right colleges for you, and develop a game plan for achieving your goals.

Graduate School >>
Whether you are in college or already working, The Short List will help you select a graduate program that will help you achieve your professional goals.

Career >>
The Short List will help you uncover your strengths, refine your objectives, identify the right opportunities, and build the skills and confidence you need for long-term success.
International >>
The Short List has a special appreciation for the additional challenges international students face when researching, visiting, and applying to colleges, graduate schools, or careers in the United States. We are experts at navigating this process, and we'll be with you every step of the way.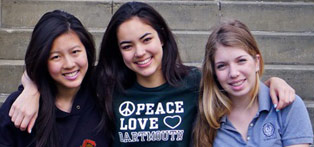 "I got into Cornell! THANK YOU SO MUCH FOR ALL YOUR HELP! I definitely couldn't have done it without you! Many, many thanks!"
—Christine, Beijing

"I really appreciate all the help you've given me over the past two years and honestly, I can't imagine having gotten into Dartmouth without your assistance."
—Alison, Hong Kong


"I got into Georgetown! I am so happy and can't thank you enough for all your guidance!"
—Chloe, England
When we first met Thomas, our conversation progressed as many of our initial discussions do, until we got to the question, "Have you started thinking about colleges?" Thomas replied rather sheepishly, "Yes, my dream is to attend Stanford." Not Stanford and three or two or even one other school. Just Stanford.
Thomas's parents encourage their children to pursue their dreams with passion and then fully support their efforts. We asked Thomas why he dreamed of going to Stanford, and he replied, "Because I want to be an environmentalist and Stanford has one of the best programs in the country."