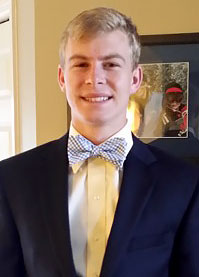 The Best Buddy
When Alex first came to The Short List in his junior year, we knew that he was an exceptional student. He was second in his class, had already taken seven AP courses, and was a member of three honor societies. We were amazed to learn how many activities Alex was also involved with: varsity and club soccer, student government, community service, and a few clubs at school. It quickly became clear Alex's challenge was going to be time management.
Additionally, we knew that Alex had ambition but had yet to discover his true passion. As we got to know Alex, we learned he had a growing enthusiasm for his work with the Best Buddies Club at his school. Alex had developed a close relationship with his "buddy." As we worked with Alex, he began to recognize he had a strong passion for working with students with intellectual disabilities and was determined to help other students experience a friendship similar to the one he and his buddy shared. He became president of the club in his senior year and grew the membership from five students to 150 active members. Ultimately, Alex's work with Best Buddies gave him a strong curiosity about brain development, and he became interested in pursuing neuroscience.
Alex decided to apply Early Decision to Duke University, and The Short List worked with him to prepare his application.
Attending a public school in the Tampa area, Alex did not have many opportunities to attend college information sessions and had not yet visited any campuses. The Short List helped Alex begin to develop a college list and identify college presentations in his area that he could attend. We also knew it was important for Alex to visit some college campuses. Given the demands of his schoolwork, many activities, and two summer jobs, this was not an easy task.
Alex visited several schools in North Carolina at the start of his senior year and immediately fell in love with Duke. When stepping on campus, he felt he had "found his people." More than that, Alex was taken with the strong science offerings at Duke and the opportunities to do research. Alex decided to apply Early Decision to Duke University, and The Short List worked with him to prepare his application. We realized that while he had great breadth of experience, it was important that he demonstrate the depth of his commitment to his activities as well. We worked with him to develop strong essays that conveyed his passion and involvement, and we went through extensive interview preparation.
Alex was accepted Early Decision to Duke University and will be matriculating this fall.
Meet our Clients >>