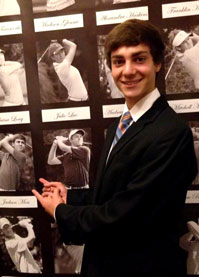 The Golfer
We met Jackson and his family two years ago at one of our Columbus, Ohio, presentations. Jackson was an academically gifted student, had legacy at two highly ranked schools, and was a top-rated golfer. His family was unsure how to go about the search process: Should they go for a school strictly for academics? Was it smarter to take advantage of his legacy status? Or should he pursue his dream of playing golf in college?
This was not the first time we had experienced such a conflict, and we knew the real answer lay within Jackson. He just needed to find a way to uncover it. Jackson is very organized, decisive, and clear-thinking. While he was prepared for every session with The Short List, his process was more streamlined than some of our clients. He was determined not to waste time. Jackson wanted only to pursue those schools where he could truly envision being happy. He decided early on that any college he attended had to have top- notch academics and an opportunity to play golf.
We helped Jackson research several schools, register with the NCAA Clearing House, design a golf resume, reach out to coaches, and start the recruiting dialog. He planned college visits to tour campuses, meet coaches, and attend admissions sessions. He narrowed his list down to just a few schools. We held a family meeting to discuss his application strategy, including concerns that he did not have enough schools on his list and might need to broaden his choices and accept that he might never play golf in college. Jackson listened but determined he wouldn't change his list because it included only schools where he knew he would be happy, even if they ended up being his only option.
Jackson spent the fall continuing his dialogue with the coaches at each school, working on his essays, and keeping up with his schoolwork. All of the schools expressed interest in having him join their golf team. Jackson didn't want to leave them in limbo, so he chose one school and applied Early Decision. In December, Jackson called to tell us he had been accepted to Williams College, the number one liberal arts college in the country. He said that the golf coach was as excited as he was to have Jackson join their nationally ranked team.
Meet our Clients >>