Lindsey (Tennessee)
Georgetown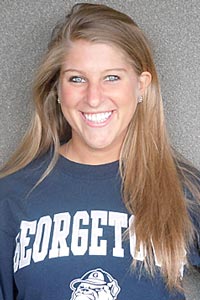 The Lawyer
We first met Lindsey five years ago when she was a junior in high school aspiring to become a doctor. Her family included four generations of doctors, leaving her with no doubt that she, too, would be a doctor one day. She entered Vanderbilt University in fall 2007 as a pre-medical student.
The direction of her life changed, however, when Lindsey entered a public policy course during the second semester of her freshman year. She found herself in the center of lively debates over stem cell research and mandated health care. She became fascinated by the interplay of economics, politics, and science, and she decided to switch to a double major in medical health and political science.
The Short List worked with Lindsey to help broaden her knowledge through study abroad and internships. During the summer of 2009, she spent two months in Europe with the prestigious London School of Economics. Later that same summer, she completed a congressional internship in Washington, D.C., at the height of the health care debate. She saw how lawmakers and, more specifically, lawyers helped shape that debate.
The Short List helped her prep for her interview and watched her confidence soar.
The more Lindsey studied and experienced, the more confident she became that the right path for her was, in fact, law school. As a lawyer, she felt she could help create health care policies with far-reaching impact.
Lindsey contacted The Short List a third time to help her explore law schools. She had narrowed her list to focus on schools in Washington, D.C., Maryland, and North Carolina to give herself proximity to the federal policymaking process.
The Short List visited Lindsey at Vanderbilt. She was mature, focused, and eager to move forward with her plans. She had already taken the LSAT once and was preparing to take it a second time. She applied to several schools, but was increasingly drawn to Georgetown University Law School.
In late fall 2010, Lindsey began to receive acceptances, but Georgetown remained silent, so she traveled to Washington, D.C., to attend a Georgetown Open House. She connected with students, faculty, and administrators and left convinced Georgetown was the right school for her even though it was a long shot.
Shortly after her visit, Lindsey received a call inviting her to interview with Georgetown. The Short List was convinced the interview would demonstrate what made Lindsey exceptional. We helped her prep for the interview and watched her confidence soar.
Only a week after her interview, Lindsey received the thrilling news that Georgetown University Law School would be welcoming her to the Nation's capital in the fall of 2011.
Meet our Clients >>