Lynnette (Hong Kong)
Wellesley/MIT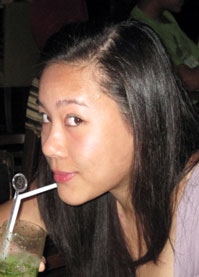 The Architect
Although her family lives in Hong Kong, Lynnette attends an all-girls boarding school in Connecticut, which has given her a strong sense of empowerment. She is a hard-working student involved in several activities, and she had some clear ideas on the right colleges and universities for her—all 43 of them! To help narrow her list, we worked on tapping into Lynnette's passions.
Lynnette is an excellent science and math student, exceptionally talented writer, and winner of several art awards. Her many passions and talents made narrowing her choices challenging. Her initial list included some of the highest- ranked schools in the country. We suspected that once Lynnette saw some of the schools on her list, she would be better able to focus on those that could truly satisfy her interests.
The Short List met with Lynnette and her family when we were in Hong Kong in March 2010 giving a community college admissions presentation. We discussed schools the family had visited during a college tour The Short List helped coordinate, and we brainstormed summer activities. Lynnette was interested in an "art" summer and applied to Rhode Island School ofDesign's prestigious architectural program. The experience brought together her interests in art, math, and science; Lynnette declared her desire to pursue architecture in college and was able to narrow her college list to 12 schools.
The Short List helped to coordinate the family's college tour.
Two in particular stood out: Wellesley, the top all-women's college just outside Boston, attracted Lynnette because they provide a liberal arts education in an environment familiar to her. On the other hand, MIT, located in Cambridge, Massachusetts, has an amazing architecture program and sits just across the river from Boston.
Wellesley has a binding Early Decision program, while MIT allows students to apply through their non-binding Early Action program. The Short List knew Lynnette faced a tough decision, so we had her direct her energy toward crafting strong applications for both schools. We believed her distinctive writing style—introspective, humorous, and revealing—would allow her to stand out.
The opportunity to apply early to both schools worked in Lynnette's favor. To her delight, she now has the choice of spending her four years at Wellesley, or entering the five-year joint degree in architecture program with MIT to receive an undergraduate degree from both schools! Lynnette's ambitious approach reminded The Short List of the importance of our clients' taking ownership of their process and having the courage to go for everything.
Meet our Clients >>