Meg (USA)
Columbia University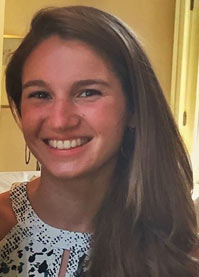 The Social Enterprising MBA
When Meg was a college senior in suburban Ohio, she submitted an application to join a tutoring program in Boston. At the time two things motivated her: she wanted to be a teacher, and she wanted to live in a big city. She traveled to Boston for the final round of interviews and spent a day student teaching. The day was challenging. She found herself losing patience with the students when they did not understand the concepts she was trying to explain. She began to question whether teaching was the right fit for her, and the interviewers agreed. She did not move forward with the program.
Trying to figure out where to turn next, Meg thought back to her summer internship at a progressive private school doing data analysis to help teachers better understand standardized test scores. She transformed a stack of papers containing five years' worth of data into an interactive dashboard visualizing student progress year over year. She had used her analytical skills to benefit the students' education—a cause about which she cared deeply. She decided to look for opportunities that would help further her analytical skills and applied to one of the country's top consulting firms in New York City.
Over the next three years, she performed analyses that helped solve complex problems for corporations. She enjoyed her experiences working for the consulting firm but couldn't stop thinking about her dream to work in education. She contacted The Short List to share her hope of finding an MBA program that would continue to expand her analytical skills but also allow her to focus on social enterprise and education.
The Short List helped Meg research top MBA programs that had strong missions in social enterprise and education.
The Short List helped Meg research top MBA programs that had strong missions in both areas. We encouraged her to visit each school, as we worked with her to refine her story in both her essays and interviews. Columbia University in New York City emerged as the clear leader. She wanted access to the organizations that interested her the most, and being a subway ride away would make that possible. She decided to apply to Columbia Early Decision.
Just before Thanksgiving, Meg wrote to us with great news: "I got accepted into Columbia! They actually asked me to do the January start date and complete the 16-month program; same program, different timeline." Meg gave her notice at work and six weeks later passed through Columbia's gates determined to graduate from her MBA program with real-world experience under her belt that would help her make an even bigger difference in the field of education.
Meet our Clients >>