Nancy and Tim (Turkey)
NYU and Tufts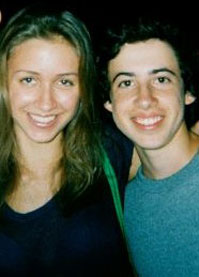 Multiple Classmates
Nancy's family works for the State Department and has hosted several international community presentations for The Short List. We met Tim at the presentation they organized for us in Istanbul, Turkey. It was clear from our first meeting that Nancy and Tim were good friends. They had just returned from a school trip to Nepal and were eager to share their experiences with us. They also shared their stories.
Nancy's family moved from Bangkok, Thailand, to Istanbul at the start of her junior year. She found that the quickest way to make friends after each move was to become involved and that was how she discovered theatre. Arriving in Turkey was no different, and she found herself quickly cast in a school production. She also began to take up guitar and singing, and soon began considering a life in the performing arts. She began looking for schools with strong acting programs.
Nancy and her mother traveled back to the United States in the spring of her senior year for several interviews and auditions. She rehearsed her songs and monologues while we helped her prepare her resumé and prep for her interviews. She returned a week later and waited for the results.
When Tim came to The Short List he was very clear on a few things: he wanted to have an urban college experience at a school with a strong international student population.  Having lived in Paris, Madrid, and Istanbul, Tim was accustomed to a diverse and cosmopolitan community.  He had always enjoyed math and science in school and had a real passion for technology. So as he started thinking about a college major, he realized it had to be something that would incorporate math, science, and technology, and focused on schools with computer engineering.
Tim was also able to make a trip to the US, so we worked with him to maximize his campus visits and prepare him for his interviews at a number of schools that met his criteria.   Later, as Tim worked through his college essays, we pushed him to reveal the interests and passions he had as a student and individual. He was able to express himself in beautiful essays that were infused with his wry humor. The only question that remained was whether his colleges would recognize his unique qualities.
When April finally arrived, both Nancy and Tim received news that they had been accepted to top universities. Nancy is now a freshman in NYU Tisch School's nationally ranked acting program, and Tim is just hours away in Boston at Tufts University where he is enrolled in their highly acclaimed engineering program.
Meet our Clients >>