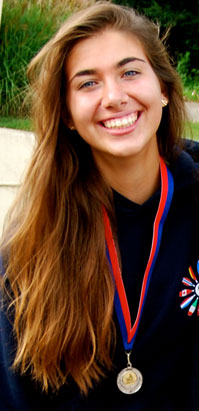 The Rower
The Short List had worked with Sera's older brother, but we could immediately see that Sera's process was going to be different because she was considering rowing in college. Sera's mother had been a rower and encouraged Sera to pick up the sport in high school. She joined a top Swiss club and soon became one of the best rowers on the team. The summer following her sophomore year of high school, she and her French rowing partner qualified for French Nationals. The French national team coach expressed interest in her trying out for his team. Although he was disappointed to learn Sera was neither French nor living in France, she decided to make sports recruiting a part of her college process. The Short List helped Sera start reaching out to US coaches. Almost immediately, the coaches responded with great interest. Sera felt both thrilled and overwhelmed by the attention, so we looked for ways to reduce the stress for her and her family.
We encouraged her to stay focused on her academics and rowing, and then worked with the family one step at a time, beginning with planning a college tour during the fall of Sera's junior year. We helped set up and prep her for meetings with admissions and coaches, and she returned from her visits filled with excitement. She had fallen in love with several of the schools. The coaches said they needed to see test scores before moving forward. Sera met with The Short List test-prep counselor, who determined that she showed greater promise for the ACT. This helped Sera focus on just one test. As it turned out, her ACT scores more than met the qualifying scores needed.
The Short List helped Sera submit a quality application with all of her supporting documents by the end of September.
The spring and summer were filled with rowing meets, including a return to French Nationals. This time the US coaches present took note. One coach even traveled to Switzerland to meet with Sera's coach. Sera visited a few more schools at the end of the summer and narrowed her list to two schools. Both had given her the green light from admissions, which meant she would have to choose between them. Although it was tough to turn another Ivy League school down, Sera felt that Yale was the school for her.
The Short List helped Sera submit a quality application with all of her supporting documents by the end of September. She received a "likely" rating letter from Yale by the middle of October that ended, "…we are proud to welcome you as a member of the Yale family." Sera had to wait until December for her official acceptance, but the weight had been lifted and she began to enjoy her senior year free of admissions angst sooner than most of her classmates.
Meet our Clients >>