Thomas (Hong Kong)
Stanford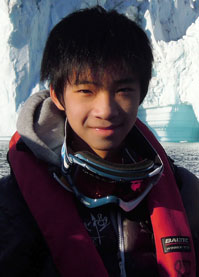 The Environmentalist
When we first met Thomas, our conversation progressed as many of our initial discussions do, until we got to the question, "Have you started thinking about colleges?" Thomas replied rather sheepishly, "Yes, my dream is to attend Stanford." Not Stanford and three or two or even one other school. Just Stanford.
Thomas's parents encourage their children to pursue their dreams with passion and then fully support their efforts. We asked Thomas why he dreamed of going to Stanford, and he replied, "Because I want to be an environmentalist and Stanford has one of the best programs in the country."
Thomas had top grades and was actively involved in many activities, including serving as class president. What Thomas didn't see was how to connect his academic interests and efforts with colleges that shared his values. While supporting Thomas's goal of attending Stanford, we suggested that he explore colleges beyond Stanford so that he could see other possibilities.
The Short List helped Thomas design an application strategy.
Thomas became fully engaged in the process. He spent countless hours researching schools, exploring their websites, and mapping out their geography. He planned a packed two-week college trip for his family during which he took notes and met with admissions personnel and faculty. When he returned home, The Short List helped Thomas design an application strategy. It was important that he present his story so that any school on his list would view him as a viable candidate.
A common thread throughout was his passion for the environment. We learned that much of his commitment was motivated by an extraordinary trip to the Artic. He wrote in his personal essay that watching an avalanche calving "was a compelling reminder of both nature's unparalleled beauty and the looming threat of climate change." He went on to share how, after that experience, he wanted his environmental efforts to be more intentional. He discussed the difference he was trying to make in his school and community.
Throughout the process, we watched Thomas mature and grow in confidence. As much as he changed, his dream did not. He applied Restricted Early Action to Stanford. His sister, a Tufts freshman and former client of The Short List, was on Skype with him when he received his decision at 4 am Hong Kong time. Still holding the laptop with his sister on Skype, he woke his parents and shared his news, "I got into Stanford!" As a family, they celebrated.
Meet our Clients >>