THE SHORT LIST COLLEGE FUND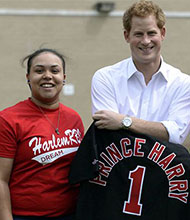 Rachael and Prince Harry during his visit to her Harlem program.
At the Short List, one of our motivating beliefs is the importance of giving back to the community. The Short List College Fund Program, a non-profit extension of our organization, helps students minimize the financial challenges involved in researching schools, putting together a focused strategy, and locating scholarship money, grants, financial aid, and college work-study.
We also provide pro bono services to inner-city public schools throughout the year.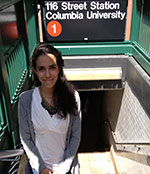 Christine, proud graduate of Columbia University.
In many cases, the students who receive this assistance may be the first generation in their family to go to college, and they often have little understanding of what the college admissions process involves or how to compete successfully in the college environment.
The Short List College Fund Program
helps to pay their application and test-taking fees, college visit expenses, and all four years of college textbook expenses. We also stay in touch with our students beyond high school and help many with graduate school or career placement.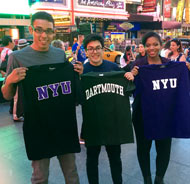 Some of this year's graduates celebrating their acceptance in NYC's Times Square.
The Short List College Fund Program opens up opportunities for many students and families who would otherwise find it difficult to afford college, position themselves competitively, or succeed once they enter college. This vital program is supported by tax deductible contributions from individuals, families, and organizations that share our commitment to reaching out and enriching the lives of young adults through education. To learn more about The Short List College Fund Program or to make a tax deductible contribution, please email us at fund@theshortlist.org.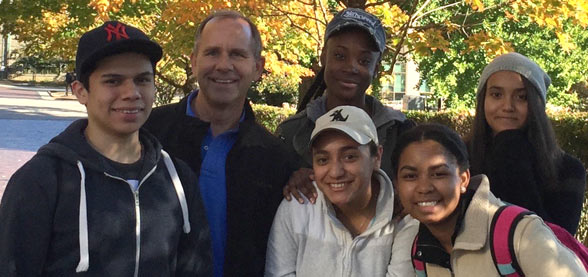 We welcome your tax-deductible donations to The Short List College Fund.
You can send your check or money order to:
The Short List College Fund
292 Main Street, #16
Great Barrington, MA, 01230
"I got accepted to Brown and their financial aid package was really great! It consists of grants, scholarships, and $1500 in work-study. They offered me a financial aid of $50,000 and I only have to pay $2,000. I sent back my confirmation to attend in the fall!"
—Pema
"I got accepted into Washington and Lee, and they are giving me $40,000 a year! I am still in shock!"
—Frank
Partners
The Short List also works cooperatively with several organizations that provide mentoring to young adults. To learn more about their invaluable work, please click on the links below.


Emma Bowen Foundation


UCLA Riordan Programs


National Hispanic Institute