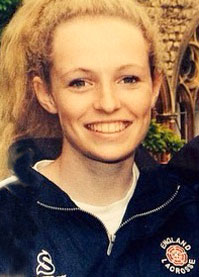 The Lacrosse Player
Phoebe attended one of our fall UK presentations at her boarding school in England. We outlined the opportunities of US education, but Phoebe mostly heard that she could be a scholar- athlete and continue playing lacrosse at the college level. Phoebe is an outstanding student and a gifted athlete. In addition to playing lacrosse for her school, Phoebe also plays for her county team, a UK regional team, and, most impressively, England's U19 National Team.
Phoebe was well known in England but not in the United States. Whenever her national team competed in international tournaments, she saw that all the great players attended or graduated from US colleges. Phoebe became determined to do the same.
Our first effort was to help Phoebe raise her visibility with US coaches. The Short List showed her how to begin building relationships. We suggested putting together a recruiting video for her top schools. We also stressed the importance of campus visits and meeting one-on-one with coaches. We then helped her put together a weeklong college tour.
The Short List showed her how to begin building relationships.
On her first day, she visited the Duke campus. The coach and players were away at a tournament, but Phoebe was able to evaluate Duke's academics. She went on to visit several other schools and meet with their coaches but kept returning to Duke academics as the standard against which she measured all the other schools. Phoebe wanted to return to Duke for another visit to meet the coach. We looked at the various summer recruiting camps and, as luck would have it, her national team was scheduled to compete in the US at the same time Duke was scheduled to hold their summer camp. She ended up spending two days at Duke, meeting with the coaches and players. The head coach pulled Phoebe aside at the end of the camp and told her how impressed the staff was with her. Phoebe was thrilled to receive these words of encouragement from a coach whose team is ranked among the best in the country.
Phoebe spent the fall semester considering her options. The Duke coach did not make it easy. She told Phoebe she would have to get into Duke on her own merit but, if accepted, she would have a place on the team. Duke had a binding Early Decision program, which meant that Phoebe would have to commit without having something in writing from the coach. Phoebe and her parents decided it was worth the gamble because of Duke's strong academic programs. She was clearly excited six weeks later when she emailed The Short List: "The dream has come true! Thank you for all your help; I couldn't have gotten this without you! (A rather excited and over- the-moon) Phoebe." A day later, the coach sent Phoebe a note welcoming her to Duke's nationally ranked team.
Meet our Clients >>