Sara and Grace (New Jersey)
Cornell and UPenn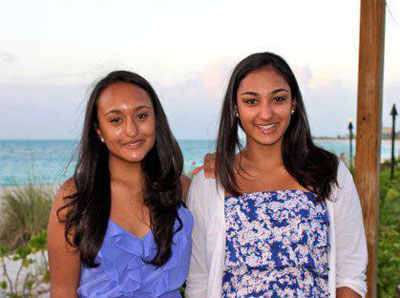 The Thoughtful Twins
We were introduced to Sara and Grace by our summer planning consultant,
Jill Tipograph
. Jill had worked with the twins in organizing amazing summers and activities that extended beyond the summer.
We sat down with Jill, the twins, and their parents. The twins shared a passion for science and a desire to pursue careers in medicine. At first, the two seemed so similar that it was a challenge differentiating them. Luckily, the family engaged our services early enough that we had time to help each define her own path.
We agreed that we would work with them separately and asked them not to discuss our efforts between them. We then delved deeper into their backgrounds, and began to get a better sense of each sister's personality. Sara loved music and community service. She played violin in her school's orchestra and became the senior leader of the Fundraising Council and Debate Club. She also spent summers researching at Brown and Columbia Universities, and volunteering with the community blood bank. With Jill's help, Sara had organized a violin program for a community center in the Bronx. She collected used instruments and spent months teaching the children how to play. She even directed a show they put on for their parents. Sara's efforts were always directed at helping others.
The Short List helped each of the sisters compile a list of colleges that addressed their individual interests.
Grace loved science but felt conflicted because she also loved literature, writing, and the classics. In school she joined the Writer's Workshop Club and became the editor for her school's literary magazine and newspaper. Outside of school, she attended summer science research programs at Penn and Columbia, and writing workshops at Johns Hopkins. Grace pursued both science and writing with equal vigor.
The Short List helped each of the sisters compile a list of colleges that addressed their individual interests. Grace wanted to find a school that would combine her love for science and writing, while Sara wanted a school that would allow her to pursue science and human ecology. Each had a clear favorite: for Grace, the University of Pennsylvania and for Sara, Cornell. Through multiple meetings with admissions personnel and faculty, each girl found an advocate at her school who agreed to write on her behalf.
Both schools announced their early decisions on the same day. Grace opened her decision first and the family recorded her jumping up and down at news of her acceptance to Penn. The camera kept rolling as Sara received her acceptance to Cornell. When they called The Short List with the news, both girls were over the moon as they shared their news—separately.
Meet our Clients >>